For generations of Chinese, Zhou Enlai was their respected premier and a great statesman. To his wife Deng Yingchao, he was a loving husband. Today, we came to Zhou Enlai's hometown Huai'an, to track down the couple's love story.
On August 8th, 1925, ZhouEnlai and Deng Yingchao married in Guangzhou. Unlike other love birds, they only stayed for the wedding night before a long separation without any ceremonies.
"When the flower of revolution blossoms, our flower of love blossoms."
Although separation took most of their marriage, Zhou Enlai and Deng Yingchao never stopped expressing love with letters. Every letter is a collision of ideas and a deep exchange of souls.
On July 3rd, 1942, Zhou Enlai just recovered from an illness, he told Deng Yingchao "Do not worry " in letters, and Deng Yingchao responded best regards to him.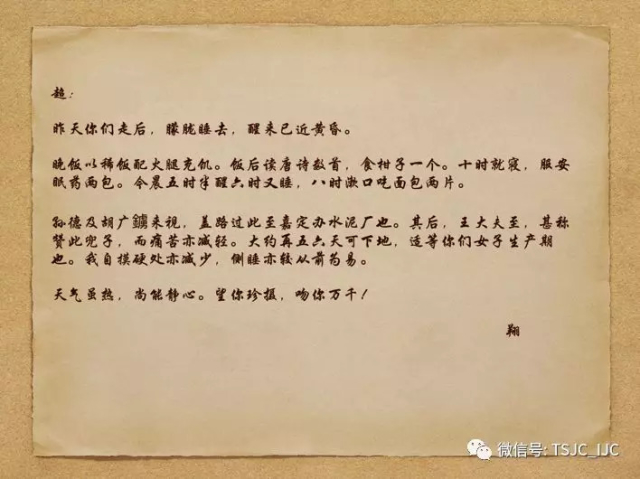 On February 3rd, 1950, Deng Yingchao wrote to Zhou Enlai. At that time, Deng Yingchao had a heart attack and was recuperating at home, but her concern for the prime minister remained unchanged.
In March 1955, Deng Yingchao heard that the enemy planned to murder Zhou Enlai. She was so that she wrote regardless of her sickness at once. In this letter, she expressed concern and longing for her husband.
"It's only three days past, but I can't help to write you a few words...For the benefit of the people, for the noble cause of human progress, for you to do more work, you must be good at protecting yourself from illness. In this regard, we must win the battle against the 'enemy'. I wish you a victory and a safe return! I can't wait to welcome you."
On January 8, 1976, Premier Zhou Enlai passed away. DengYingchao insisted on carrying the ashes box of Zhou Enlai in accordance with his will. She asked the pilot to scatter the ashes on the land of Zhou Enlai'smotherland, which he loved and worked for all his life.
Twelve years later, Begonia blossomed. When seeing Zhou Enlai's favorite flowers blooming, DengYingchao wrote the words of nostalgia:
"Spring has arrived, and Begonia was in full bloom again. However, the owner of the flower has gone for 12 years, leaving us behind and never came back...Twelve years seems short, but I felt it was too long sometimes.