The International Association for Media and Communication Research (IAMCR) Annual Conference was successfully held by the School of Journalism and Communication of Tsinghua University in Beijing in July, 2022. The first special session of IAMCR Beijing – Communication Research in Asian-Pacific Regions: Culture, Connection, and Collaboration – took place on July 12th. This session was hosted in collaboration with the Asian-Pacific Communication Alliance (APCA) and the Asian Network for Public Opinion Research (ANPOR) and focused on how communication scholars of Asian-Pacific origins and research interests can continue to promote academic collaboration collectively while increasing the global influence of Asian-Pacific media and communication scholarship. Scholars from multiple Asian countries shared their insights on specific national contexts and international cooperation in communication research.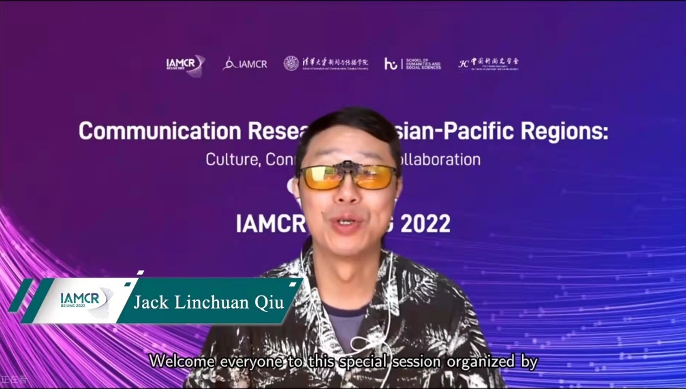 Prof. Jack Linchuan Qiu
The special session was hosted and moderated by Prof. Jack Linchuan Qiu, Professor and Research Director at the Department of Communications and New Media, National University of Singapore. Prof. Qiu highlighted that referring to "Asian Pacific" in its singular form could be misleading and could not account for the complexities in the variegated cultural and institutional contexts. Thus, this special session sought to emphasize "the Asian Pacific regions" in the plural, emphasizing the diversity of the research contexts. Prof. Qiu also briefly introduced the contexts within China, where Marxist analysis of media phenomena is a fundamental aspect of media theory in this socialist country. Other research initiatives center on "China's Storytelling" and Belt and Road Initiative. It is within these unique Chinese contexts that communication researchers examine topics such as digital media usage and communication policy. Qiu emphasized that connections and collaboration through APCA, IAMCR, and beyond are critical to providing global audience with Asian perspectives in order to understand the various kinds of media and communication scholarship in this part of the world.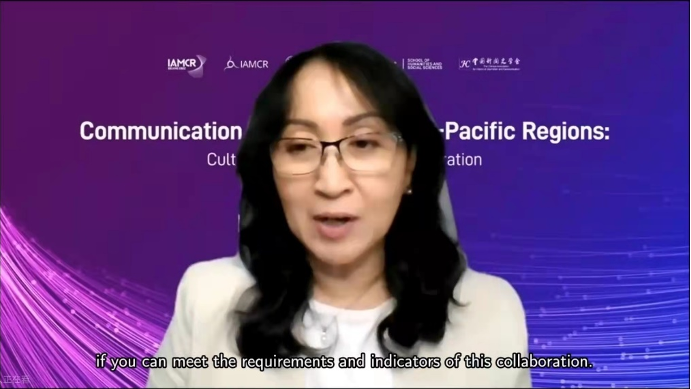 Prof. Dorien Kartikawangi
Situated in a multi-cultural country with huge population in Southeast Asia, Indonesian communication scholars contribute significant experiences and insights. Prof. Dorien Kartikawangi, Associate Professor and Head of the School of Communication at Atma Jaya Catholic University of Indonesia, shared the research topics, collaboration projects and patterns of media studies in Indonesia. She also discussed ways in which organizations such as ASEAN (Association of Southeast Asian Nations), ANPOR, and other associations can play in enhancing collaborations. In recent years, Indonesian communication researchers have shifted their focus from pandemic to post-pandemic situations, along with digital communication and global issues related to sustainable development goals (SDGs). Kartikawangi pointed out that in Indonesia, collaborative projects usually depend on individual priorities, affiliations, institutional priorities, funding agencies, and other resources. Taken together, she proposed that such collaborations could constitute a "research melting pot", where information about research projects and scholars' biographies can be shared. Such collaborations may benefit not only research but also staff mobility, student exchange, and community services. In her editorial role, she warmly welcomed scholars from different countries to submit papers to the Asian Journal of Communication Special Issue on Contextualizing Islamic Communication (https://think.taylorandfrancis.com/special_issues/asian-journal-communication-policy/).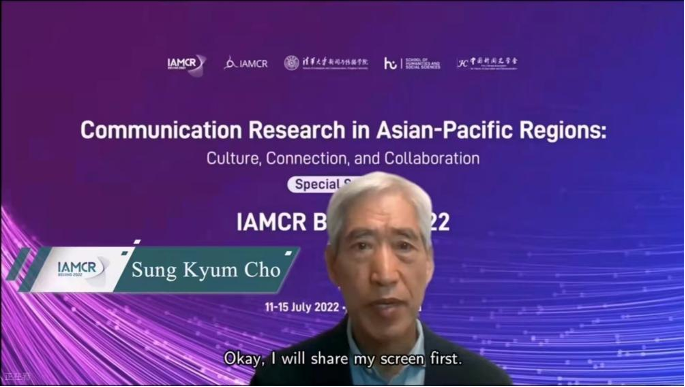 Prof. Sung Kyum Cho
Prof. Sung Kyum Cho from the Department of Communication at Chungnam National University characterized Korean communication research as "diverse" in their topics (e.g., health communication, digital media, public opinion) and methods (e.g., text analysis, machine learning, interdisciplinary studies). Prof. Cho introduced two modes of collaboration including data collection at the macro-institutional level and scholars working together at smaller scale such as joint seminars. Considering different academic expectations, cultural backgrounds, (dis)connections in professional social networks, as well as issues related to funding, Cho suggested that organizations such as APCA should play a major role in facilitating collaboration among scholars from different countries and backgrounds.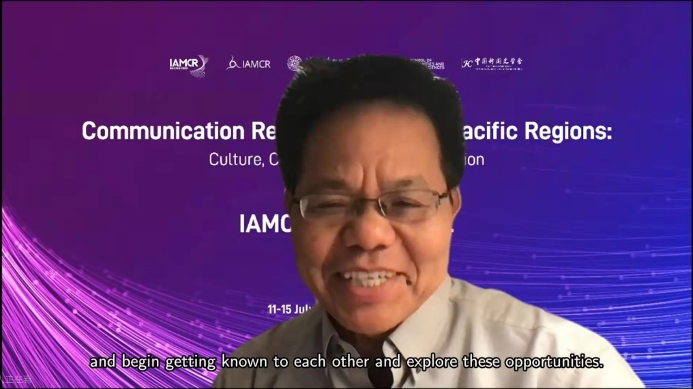 Prof. Shuhua Zhou
Prof. Shuhua Zhou, Leonard H. Goldenson Endowed Chair in Radio and Television at the Missouri School of Journalism, University of Missouri, described the challenges faced by APCA. Media and communication research has its roots in the West; therefore, theory and practices in Asian-Pacific communication contexts remain insufficient. In addition, Asian communication scholarships are fragmented, possibly due to different research agendas and sources of financial support, which makes it difficult to marshal resources. Thus, Zhou suggested coordination of collaborative efforts through academic conferences and sharing educational resources. The APCA has successfully created a platform for professional networking among scholars within Asian-Pacific regions. Zhou reflected on possible topics and issues that different associations can tackle together, such as pandemic communication, polarization, and social media. In addition, he encouraged APCA and IAMCR members to consider the feasibility of specific plans for collaboration.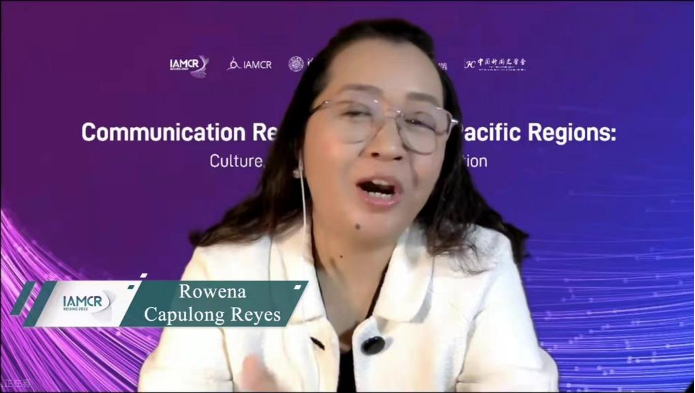 Prof. Rowena Capulong Reyes
Prof. Rowena Capulong Reyes, Dean and Faculty of the Institute of Arts and Sciences and Faculty of the Department of Communication at the Institute of Education, Far Eastern University, shared her perspectives on communication research in the Philippines. She introduced local organizations that aim at promoting research and collaboration in the communication field, including Communication on Higher Education (CHED), the Philippine Association of Communication Educators (PACE), and the Philippine Association for Communication and Media Research.Inc (PACMRI), the local version of IAMCR in the Philippines.
Facilitating high-quality collaboration is one of APCA's core missions. Despite challenges in networking and funding, all panelists in this special session highlighted the importance of understanding the specific research contexts, enhancing collaboration, and cultivating research leadership among members of APCA, ANPOR, and IAMCR, especially leading young scholars in the emerging fields.
Writer: Zhan Bingqian, Chen Wangqi