Bloomberg News honored the top journalism students in China with an evening of mentoring, workshops and lectures, as a Tsinghua University undergraduate captured the top prize, a summer internship in the Bloomberg Beijing bureau.
Five students from Tsinghua University were among eight finalists in the 2019 Bloomberg Beijing Annual Internship and Mentorship Competition, including Wendi Hu, the grand prize winner. More than 70 entrants from across China, both graduate and undergraduate students, entered the competition by submitting an original feature story. The 15 finalists and semifinalists won a mentorship opportunity with a Bloomberg editor or reporter.
Hu, a second-year student from Hubei Province, won a 10-week paid this summer. Bloomberg Editor-at-Large Lee Miller, who has taught Hu in three courses at Tsinghua, described Hu as talented, energetic and "willing to go the extra mile."
The winners were announced during a dinner party at the Bloomberg Beijing bureau on Feb. 28. The Tsinghua finalists were Hu, Ning Yang, Bokun Yu, Qian Ye and Ke Li, all from China, and Canada's Sijia Li. Yilan Wang of Communication University of China and Ziling Yang from University of International Business and Economics were also finalists. Tsinghua's semifinalists were: Suya Chen, Runtao Dai, Mingjiang Lu, Yugang Wang, and Ziye Lin of China, Emily Kay Manyame of Zimbabwe, and Emma Ho of Malaysia.
The event included "speed mentoring" pairing students with veteran journalists, a buffet dinner, a discussion on leadership and diversity, and presentations by John Liu, Bloomberg's Executive Editor for Greater China, and Celina Sang, who runs the company's campus recruitment efforts.
Professor Miller hosted a discussion Managing Editor Emma O'Brien, Beijing Bureau Chief Sharon Chen and Finance Reporter Lucille Liu, where the journalists offered advice. Among the common themes was "be really well prepared" to cover stories and "know exactly what you want to be." Liu is a graduate of Tsinghua's Global Business Journalism program. Chen started at Bloomberg as an intern in Singapore.
The ability to produce stories "in real time" for multiple audiences and platforms is highly valued," O'Brien said. "Be able to make decisions quickly. That can be stressful, but it also can be exhilarating."
All five of the Tsinghua finalists were students of Professor Miller, who has been a professor at Tsinghua's School of Journalism and Communication since 2009. Tsinghua entrants came from Miller's Corporate Strategies course and GBJ Co-Director Rick Dunham's English News Writing course. A similar competition was held in Shanghai for students from Fudan University and Shanghai University of Finance and Economics.
Each student submitted a feature story on a topic in business, financial markets or the economy in China, with priority on data-driven reporting and analysis. Finalists were then interviewed by Bloomberg staff in China, with some moving on to discussions with senior editors in Singapore and the U.S. The mentor-student pairing will provide professional experience, guidance, and advice, as well as the chance to work on a story during the spring semester.
The reception also featured a reunion of former Global Business Journalism students from Tsinghua, with participants including Han Miao, Penny Peng and Lucille Liu -- all of whom now work in Bloomberg's Beijing newsroom -- plus former Bloomberg interns Shaohua Liu, now at the People's Daily, and Yang Shang, who will soon finish his PhD, following in the footsteps of Tsinghua doctorate grads Yunxi Qiu, now a professor at CUC, and Jingjing Qian, who led the UIBE group.
By Sijia Li
Global Business Journalism students Angela Feng and Emma Ho prepare for the speed mentoring session at Bloomberg News.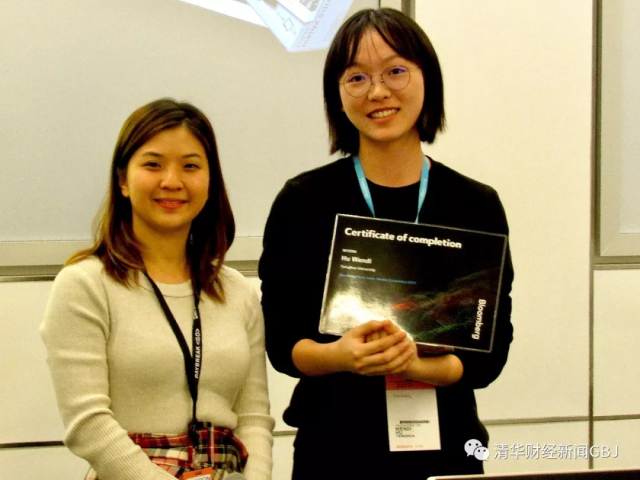 Bloomberg internship winner Wendi Hu with Bloomberg Beijing Bureau Chief Sharon Chen.
The finalists are joined by Bureau Chief Sharon Chen (L) and Greater China Executive Editor John Liu (R).
Tsinghua students take advantage of a "speed mentoring" opportunity with Bloomberg journalists.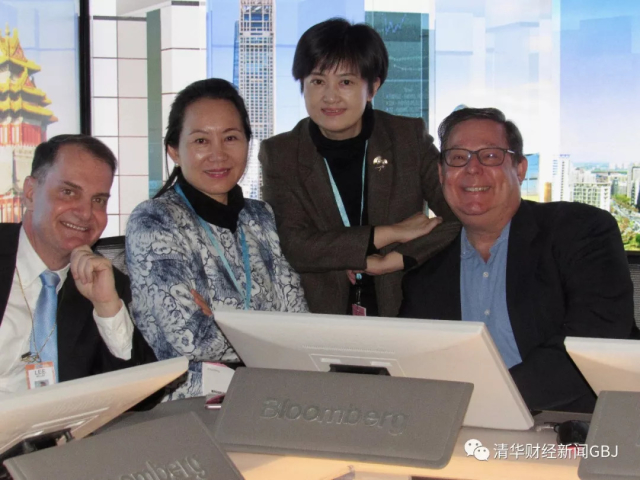 TSJC Executive Dean Chen Changfeng (second from left) joins members of the Global Business Journalism Program leadership team – Professor Lee Miller and Co-Directors Hang Min and Rick Dunham – in the new Bloomberg Beijing bureau studio.