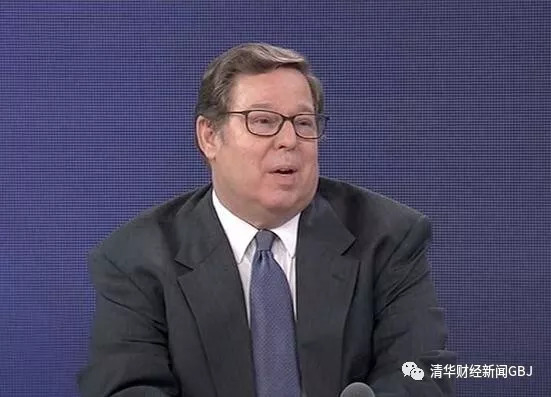 Visiting Professor Rick Dunham discussed the decline in global perceptions of U.S. leadership since Donald Trump became president, and the recent rise in international approval of Chinese leadership, during a March 14 appearance on CGTN's The Point with Liu Xin.
"The biggest reason is that the U.S. is becoming more America-centered and 'America First,' while China is embracing globalism, whether it's trade or climate change," Professor Dunham said.
On the program, Professor Dunham and Chinese commentator Victor Gao analyzed the findings of the Gallup Poll's recently released "Rating World Leaders" survey. The poll found that Chinese leadership has a median approval rating of 34 percent among the 133 nations surveyed, compared to 31 percent for the United States. Approval of China's leadership ticked up by 3 percentage points this past year, while the U.S. standing inched up by 1 point. Global approval of American leadership has dropped by more than 15 points since Donald Trump succeeded Barack Obama as president in January 2017, falling by double digits in 70 of the 133 nations surveyed. 
Professor Dunham, co-director of the Global Business Journalism Program at Tsinghua University, noted that both of the world's two largest economies had room for improvement.
"In the big picture, I don't think China or the U.S. should be satisfied, because we are talking about global leadership ratings in the 30s," he said. "You want to be higher than that. In Africa, both countries are above 50 percent. That's what you want globally, but the key for China is it's going in the right direction."
The program's second guest, Victor Gao, vice president of the Center for China and Globalization, noted the improvement in China's global image since Xi Jinping became president in 2012.
"China is very much more in the news today and China is active on the global stage," he said. "China is walking the right walk in terms of [fighting] global climate change, [promoting] globalization, defending free trade and in terms of [making] all the natural disaster relief efforts."
Professor Dunham credited China's "economic outreach" for improved standing around the world. "If you look at the Belt and Road Initiative, it's in Africa, Latin America, Europe and it's all around Asia," he noted. "So it's having a tick up [on China's ratings]." 
Gallup's "Rating World Leaders" offers a snapshot of how the world views the leadership of four major global powers: Germany, China, Russia and the U.S. America's standing is strongest in Israel, the former Soviet satellite states of Eastern Europe and sub-Saharan Africa. Trump is least popular in the Muslim-majority nations of Asia and Africa, the former Soviet Union, Scandinavia, and neighboring North American nations of Canada and Mexico.
Professor Dunham appears regularly on CGTN and China Radio International to analyze economic and global trends. He recently appeared on Dialogue with Yang Rui, World Insight with Tian Wei, China 24, offering live analysis of Chinese Foreign Minister Wang Yi's press conference during the Two Sessions meetings in Beijing, and CRI's Today program.